Lymphedema Compression Therapy Equipment and Supplies
If you have lymphedema, you deserve effective and convenient treatment. Brite Health Care provides lymphedema compression therapy equipment manufactured by Lympha Press. Lympha Press systems can be used in the comfort of your home, and can be set to any treatment time and pressure prescribed by your physician, to fit your specific needs.
Lymphedema Compression Systems
Lympha Press® is a dynamic compression therapy system. It consists of a pump which supplies air to garments worn over the areas of the body to be treated. The Lympha Press® pump fills air cells within the garments in a special sequence, alternating waves of compression with brief periods of pause and refill. This action massages the affected area with a "milking" motion.
Brite Technicians provide the intial setup of the equipment and teach patients how to properly use their device.
Lymphedema Treatment Systems for the larger patient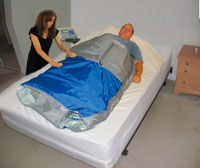 LymphaPod® is a sequential pneumatic compression therapy system designed specifically for the larger patient.
Larger patients with lymphedema have special needs. Their lymphedema often appears on the upper thighs, hips, and abdomen, areas which cannot be treated with standard leg garments.  LymphaPod® is a home care system designed to treat large patients with limited mobility. It treats the entire lower body, including legs, hips, and abdomen.
Postmastectomy and Upper Extremity Lymphedema Sleeves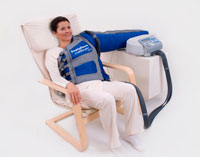 ComfySleeve™ 1-75 is designed to meet the needs of patients with upper extremity lymphedema.  It treats the entire arm, shoulder, and one side of the back, chest and abdomen.  Its sequential, compressive massage action activates the lymphatics to absorb fluids and proteins, and coaxes fluids around blockages, into healthy areas for uptake.  
ComfySleeve™ 1-75 provides gentle, targeted treatment to the axilla (armpit), as this area often requires therapy in patients with postmastectomy lymphedema due to lymph node removal or damage from radiation. 
Compression Therapy Garments
All Lympha Press® garments have our special overlapping chamber design, for fluent, comfortable and effective lymphatic drainage. We take pride in our innovative garments, and our ability to provide solutions for patients of almost every shape and size.
Meet your Technician
Find a Patient Technician.